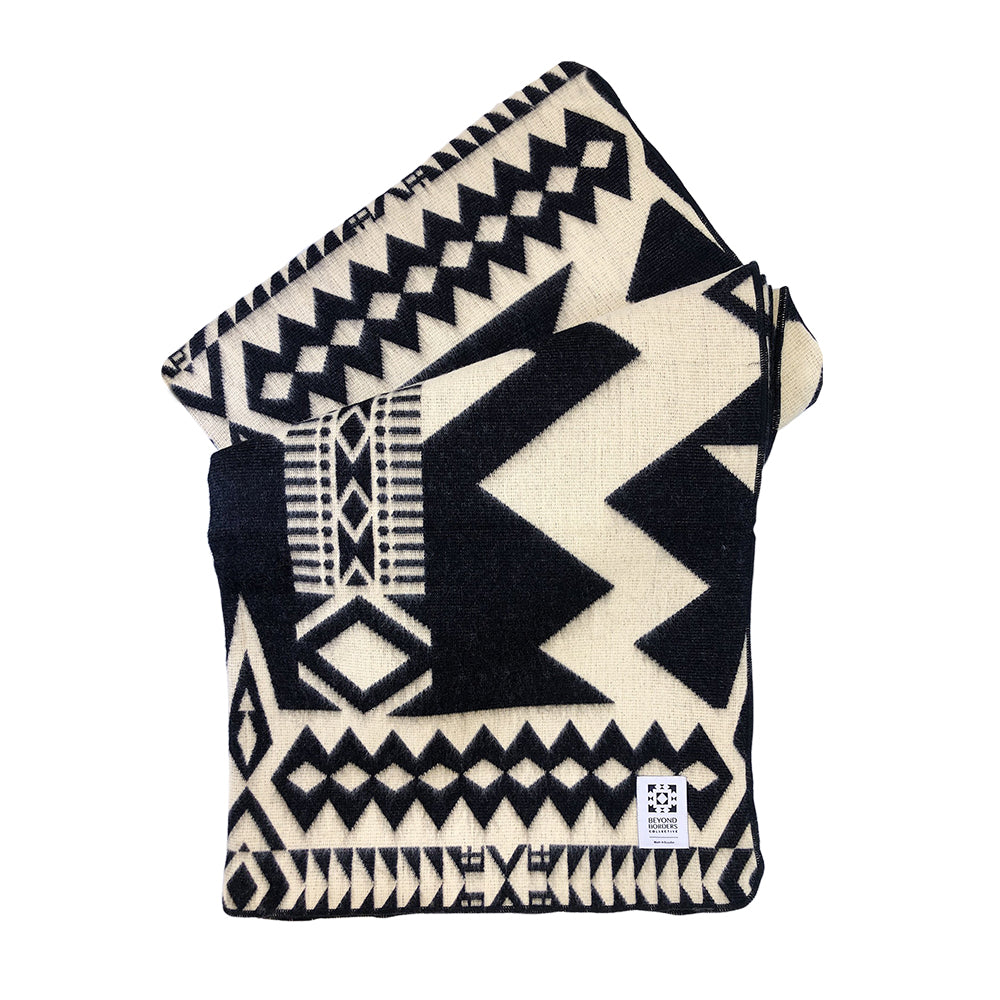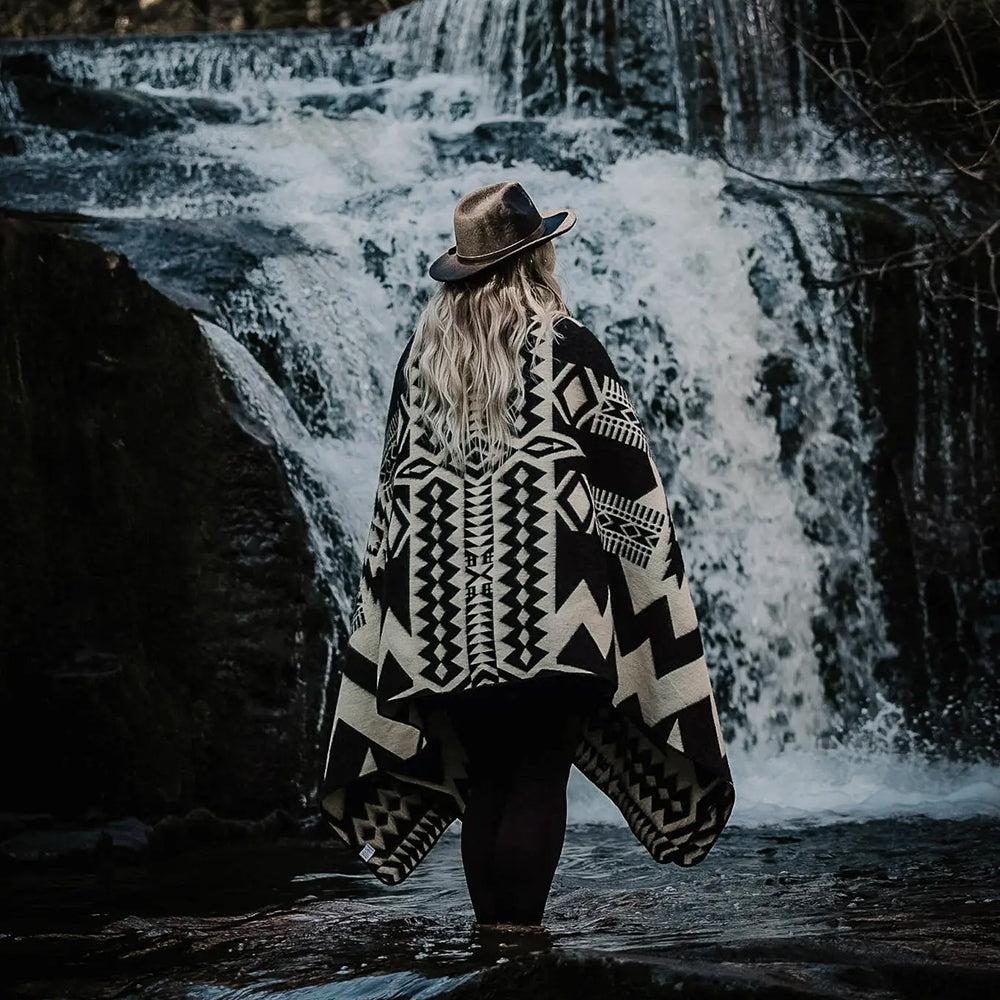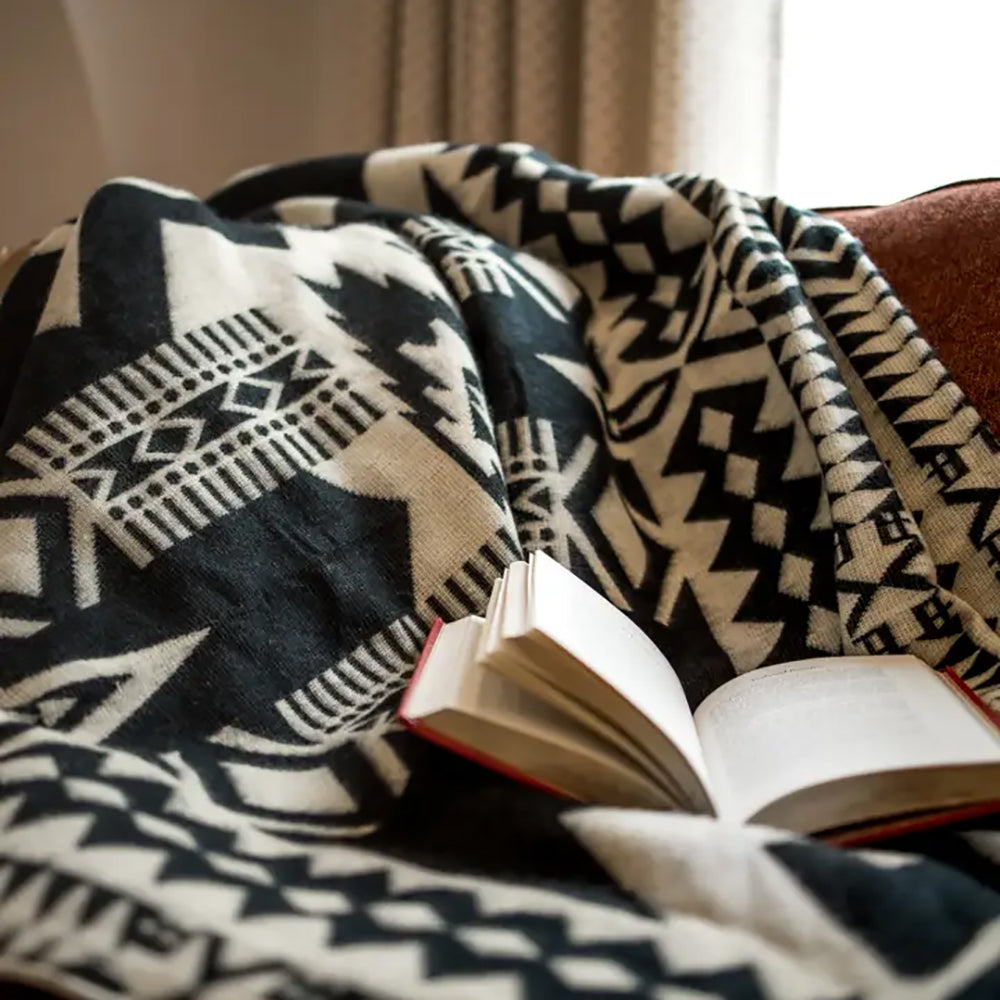 Awa Blanket - Natural/Black
Recycled Acrylic Blanket by Beyond Borders Collective
Ethically made and beautifully designed, handcrafted by indigenous artisans from the highlands of Ecuador. These blankets are warm, soft, and are easy to care for!

100% recycled acrylic
Hypoallergenic 
Size 92" (234 cm) L x 78" (198 cm) W (measurements may vary slightly due to the nature of being handmade)
2.9 lbs
Made in Ecuador
Named after an ancient tribe of people who presently live in the wet rainforests of northwestern Ecuador and adjacent Colombia. Our Awa blanket in Black / Natural is great for either your outdoor adventures or even for your simple moments of relaxation, to an indoor oasis on a cold dreary day. Whatever the weather may bring, our blankets will give extra comfort, vibe, and ambience to life's most treasurable moments. Soft and versatile with a touch of the culture of Ecuador.

PRINT TO ORDER
*Please allow 2 - 4 working days for processing your order. All orders are print on demand so this includes printing and packing times. Once processed they will be shipped for delivery.
UK SHIPPING
Royal Mail TRACKED Delivery - £3.95 (FREE OVER £50) 
EUROPE SHIPPING
Zone 1: Belgium, France, Germany, Ireland, Italy, Netherlands, Portugal, Spain, Poland
Fully TRACKED Delivery - £7.95 (FREE OVER £80) (5-14 working days*)
Zone 2: Croatia, Cyprus, Hungary, Latvia, Lithuania, Luxembourg, Malta, Estonia, Slovakia, Slovenia, Romania, Bulgaria, Austria, Czechia, Denmark, Finland, Greece, Sweden
Fully TRACKED Delivery - £9.95 (FREE OVER £90) (5-14 working days*)
USA SHIPPING
USPS TRACKED Delivery - £9.95 (7-10 working days*)

DHL Express Delivery - £20.00 (FREE OVER £100) (2 working days*)
INTERNATIONAL SHIPPING
Zone 1: Australia, Canada, Hong Kong, Israel, Malaysia, Singapore, United Arab Emirates, China, New Zealand, Norway, Switzerland, South Africa, Turkey, Russia, Australia, Brazil, Iceland, Japan, Mexico, Monaco, Thailand, Belarus, Oman, Brunei, Taiwan
Fully TRACKED Delivery - £12.95 (FREE OVER £100) (6-20 working days*)

Zone 2: Saudi Arabia, South Korea, Algeria, Argentina, Azerbaijan, Bahrain, Bangladesh, Cambodia, Chile, Colombia, Costa Rica, India, Indonesia, Kuwait, Morocco, Peru, Philippines, Qatar, Sri Lanka, Puerto Rico, Uruguay, Pakistan, Vietnam, U.S. Outlying Island
Fully TRACKED Delivery - £19.95 (FREE OVER £120) (6-20 working days*)
For more information including our exchange policy please 

click here